Fujinon Promotion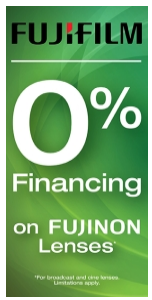 HK - Premier
35% off and get a Duclos 1.7x Expander included FREE and 24 month Zero Percent Financing
ZK - Handheld Cabrio
30% off and 24 month Zero Percent Financing
ZK - Studio Cabrio
35% off and 24 month Zero Percent Financing
XK - Handheld Cabrio
36% off and 24 month Zero Percent Financing (No Instant Rebate)
MK
Standard Pricing with 24 month Zero Percent Financing (No Instant Rebate)
Contact Sales for Details or call us at (800) 941-2446


2 YEAR 0% FINANCING on Panasonic Cinema Production Equipment

HURRY! OFFER VALID THRU 3/31/19
Panasonic is offering an exclusive 24 month, 0% finance option on the following products:
VariCam 35, VariCam LT, VariCam HS, AU-EVA1 and main VariCam and EVA1
Panasonic branded accessories.
Through Panasonic Business Finance this special promotion enables end users to spread out the cost of acquiring Panasonic products over 24 months, avoiding larger up-front costs.
0% Financing, 24 month finance term
Zero Down / Purchase Option = $1.00 Buy Out
Must be on one shippable purchase order
Only the listed products are eligible for this promotion
Non-Panasonic products are not eligible for this promotion
Services, such as installation, are not eligible for this promotion
Business qualifies beginning 4/1/18 through 9/30/18
Subject to credit approval and documentation fee of $150 applies
36- 60 month terms are also available upon request
B-Stock or used equipment are not eligible for this promotion
Panasonic reserves the sole right to modify or cancel this promotion at any time
Eligible Products: Panasonic AU-EVA1, Panasonic VariCamLT-PRO Package , Panasonic VariCamLT-PRO Package with VariCam LT 4K Super 35 Cinema Camera, Panasonic VariCam LT 4K Super 35mm Cinema Camera.
Please contact: Talamas Sales or call (617) 928-0788 for more information.