In their ongoing efforts to offer clients the highest quality technology and customer service possible, Talamas Sales and Rentals have upgraded their lens testing equipment to include the latest iteration of Gecko-Cam's industry leading Collimator and Projector.
The choice of upgrading to Gecko-Cam's latest iteration of its Collimator and Projector was based on the use of Gecko-Cam products by major rental houses across the country.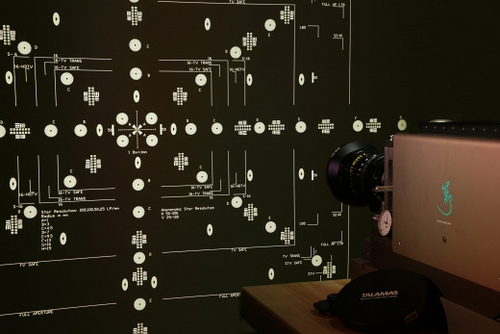 In addition to reflecting Talamas' ongoing investment in digital cinema technology and their commitment to providing cutting-edge technology and service to film clients, the upgrade speaks to Talamas' efforts to anticipate the needs of the television market, says Staff Engineer, Anthony Bottaro. "The use of digital cinema technology in television and commercial production is growing consistently and we want to serve the evolving needs of all of our customers equally."
Regardless of the application and turnover time between rentals, Talamas thoroughly inspects each lens and camera before they go out on a job using a variety of tests – including lens collimation, digital cinema camera collimation, and lens projection – so their clients can have complete confidence in the technology they rent. "We take pride in providing our customers with lenses and cameras that have gone through a strict quality control process," Bottaro says, "and the Collimator and Projector are essential to maintaining that level of quality control and ensuring we provide the highest quality product possible."
"Every market segment we serve demands perfection," adds CEO Dave Talamas, "and the digital cinema market in particular. In terms of both equipment and service, perfection is what we aim for, regardless of the technology being rented, or the application it's used for."
With the upgrade to Gecko-Cam's Collimator and projector Talamas continues to do so, ensuring clients need never worry that the glass and/or digital cinema cameras they rent will be anything but perfectly calibrated each and every time it leaves the Talamas shop.
Talamas Sales and Rentals has served the broadcast and production industries for over 30 years. Over that time the Newton, MA-based, company has earned a reputation for technical know-how and unparalleled customer service. Founded in 1979 by Dave Talamas, the company has responded to innovations in audio and video technology by bringing state-of-the-art gear to professionals in the Boston area and across the United States.