Welcome to our second article by Harry Klane! Thank you for the terrific response to our first "Infocomm 2017" installment. The great comments are in my mind as we proceed forward with these presentations.
This is the first part of a two (2) part series about new license-free wireless communication systems from RTS and Clear-Com. As the RTS Roameo has just been introduced, but not released into the field, we will begin with the Clear-Com FreeSpeak II which is readily available and is also available for rental.
CLEAR-COM FREESPEAK II Wireless Communication System
The current products within this series represent Clear-Com's second generation design of a versatile, feature laden, wireless communication system. Begun in 2014, Freespeak has constructively evolved their mission with the same basic technology but with improved tools.
Clear-Com was an early proponent of DECT (Digital Enhanced/European Cordless Technology) in the US. The standard's success in the rest of the world, and US's still ongoing frequency reallocation cataclysm, produced factors that turned initial doubting looks into wider acceptance. As another unlicensed transmission methodology, DECT presented an easily implemented technology to offset the 2.4GHz band, which quickly consumed available bandwidth due to its wide adoption. This 2.4GHz devices glut compromised the image of reliability that 2.4GHz possessed upon its introduction. Now, adding another 2.4GHz element into a lot of RF pictures, produced a unreliable link. This occurred during my RTS years, and their (still available) 2.4GHz systems were strongly challenged the minute FreeSpeak was introduced. The imposed changes clearly promoted the birth of RTS' new ROAMEO DECT-based system. That product's development just began prior to my departure. Of course, we are all looking forward to getting to meet, use it and deliver the review in part 2 of this series.
Operating in both the unlicensed 1.9 and 2.4GHz bands, FreeSpeak II continues to provide excellent performance and reliability hewing to Clear-Com's well earned reputation. A system is comprised of three (3) main components;


FreeSpeak II Base Station

FreeSpeak II Beltpacks

FreeSpeak II Transceivers
The Base Station works at both frequencies and is available in two (2) basic variants. Both versions can accept a maximum of ten (10) antenna transceivers, but one "economy" version addresses only five (5) beltpacks. The other accepts the maximum complement per base station of ten (10) beltpacks. Naturally, Clear-Com offers a licensed upgrade to expand five (5) beltpack units to ten (10).
The Beltpacks and Transceivers are specified, and ordered, by frequency (either 1.9 or 2.4GHz). Since each application is unique, the users and a knowledgeable sales engineer, should work together to achieve the best design. In another sign of Clear-Com's foresight, they provided a site survey operational mode that permits system wireless testing with a beltpack and the appropriate frequency transceiver. More on that later.

The beltpack is very straight forward and ergonomic considerations were paramount. Even at first glance, you can easily see what is what. The two versions pictured above are the blue 2.4GHz and the gray 1.9GHz. The buttons are clearly definable even by feel, size and locale. The shapes lead your fingers to their desired spot whether a knob or button. The controls include four (4) buttons, 2 rotary encoders and a reply button that can be assigned according to the application's, and end user's, parameters. Programming of the belt pack is done via easy-to-access and understand menus addressed through the top mounted display.
Their rugged design qualifies them for an IP-65 water and dust resistance rating. The rubber "overmold" around the case adds to the devices overall protection and distinctive appearance.
The three buttons on the side provide access to (from the left to the right) the power switch, the reply/talk button and finally the menu display. The bottom of the beltpack includes the headphone connector (either 4 or 5 pin) and a USB for programming upload or downloads. In a unique move, the bottom also includes a handy flashlight which are very useful during dark productions.
Beltpack power comes from either a BAT60 Li-Ion (18+ hours) or three (3) AA (6 to 9 hours) cells.
In another smart move, Clear-Com also offers a O2 version that can be utilized within rich oxygen environments like hospitals, and especially hyperbaric chambers, where communications is a life and death matter.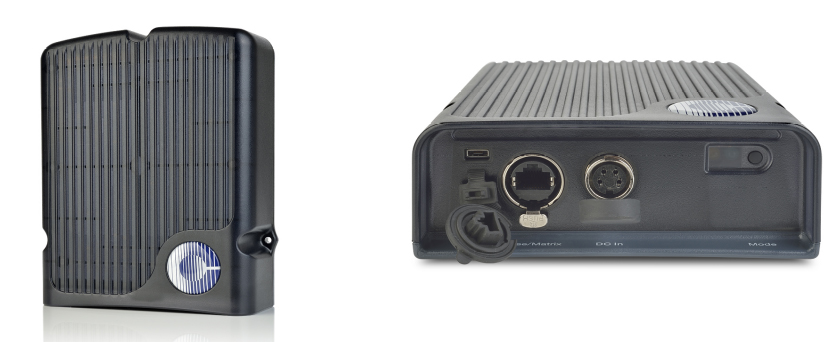 As for the essential Transceiver units, like the beltpacks, they are also ordered by frequencies and can be utilized freely within FreeSpeak systems. The antenna's circular omnidirectional pattern permits mounting in any plane. Coverage distances, in a perfect world, can reach 800 feet (250m). Then again, in our real world, 150 to 450 feet (50-150m) coverage can be anticipated with the usual list of provisos about the spaces' physical characteristics.
Each antenna can communicate with up to five (5) beltpacks and 1.9GHz and 2.4GHz can be freely disbursed within the system as long as you respect the standard distances between antennas. The antennas can be powered locally with the provided wall wart or POE (powered over ethernet), from the FreeSpeak base station, splitter or an inline injector PSU (up to certain distances).
Their simple rugged design also provides IP-65 rated water and dust resistance. This is sufficient for any covered placement in- and out-of-doors. A built-in stand mount on its rear center plate, along with several pre-drilled mounting points around the circumference, facilitate its permanent or temporary installation.
Look at the FreeSpeak II Base Station's front panel;

A clean layout complements the advanced, easily understood settings, their programming and its operation. Pre-loaded labeling speed configuring the unit for its intended application. The multi-level, coherently labeled block menus help format initial configurations and instigate changes during operations. The displays morph according to the active function and, during configuration, use the four panels concurrently. The unit's basic styling also complements the V Series keypanels along with their ergonomics.
The clear back panel layout provides versatility. An output for stage audio is complemented by a
program input. Four (4) each two- and four-wire inputs make interlink with other Clear-Com or RTS systems little more than plug and play. DC powering, two (2) antenna connections (fiber, with optional single or multi-mode modules, or CAT5) and the standard GPIO multipin insure the system's "interfacability."
Sync in and out allow connecting to other Freespeak II base stations. This exponentially expands the system's size and its ability to stay in sync over larger facilities.
While any work for a license free system could employ a FreeSpeak II, some examples are;
Sports Facilities (coach communications)

Education (Security, group control, events, temporary communications)

Media Production (plays, concerts)

Physical surveys
To determine FreeSpeak's suitability for your application, a simple site survey can be conducted with a beltpack (and a headset if you want to communicate between two beltpacks) along with its associated antenna (and power). Initiating site survey mode on the antenna as you power it up, and placing the beltpack in survey mode from its onboard menu, accesses a numbers-based quantification of the system's performance. The measurements of bit loss and signal strength can confirm that the system will work as desired. Of course, it is best if you try the site survey mode under actual conditions (full stadium, classroom, etc.). During this testing, it is also possible to communicate between two beltpacks if you'd like to hear its characteristics.
As should be clear, the applications' demands dictate the proper system configurations. Working with a knowledgeable sales engineer and doing a site survey with the correct frequency units will give you a respectable idea of the system's capabilities in your space. Then, proper system design and installation will provide you and your facility with a system capable of years of reliable communications. As real proof, please realize that over 13,000 systems are in operation right now around the world.
Please let us know when we can work with you to determine Clear-Com's FreeSpeak's suitability for your applications. A site survey, or a system rental, can provide the necessary justification and confirmation for your decision.
Thank you again for reading another of our monthly presentations.